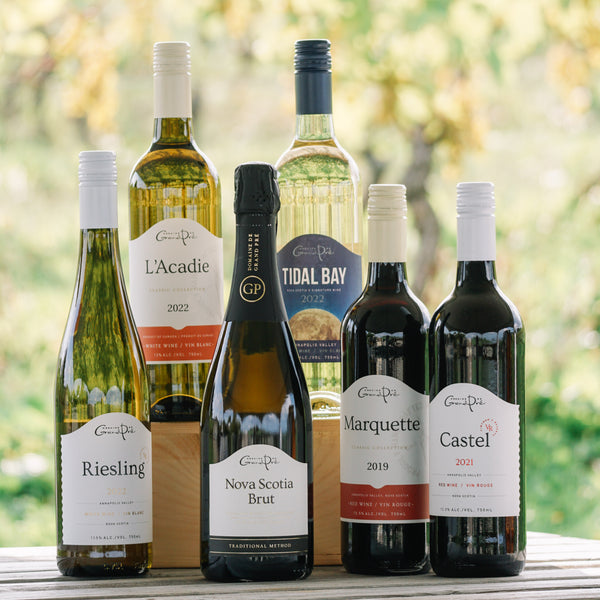 Bundle
A Taste of Home - Mixed Box
$130.00
This is a delightful selection of our wines, giving you a taste of our craftsmanship:
Nova Scotia Brut -  It shows beautiful sparkling wine characteristics with very fine bubbles and refreshing notes of baked bread and green apples with a crisp, clean finish.  It's a great start served prior to a meal or alongside various appetizers such as local seafood.
L'Acadie - Dry and full-bodied with crisp acidity, this white wine displays complex aromas of beach grass, mineral and pink grapefruit. It complements shellfish, poultry and veal.
Tidal Bay - Nova Scotia's Premiere White Wine.  There is no other grape-growing region like Nova Scotia.  A wine with unique character, Tidal Bay brilliantly reflects its birthplace:  the terroir, coastal breezes, cooler climate and our winemakers' world-class craftsmanship.  It has a distinctive brightness in the glass.  The nose is fresh yet complex.  The palate is dryish crisp, with body and fullness that lingers with every sip.  It is the perfect complement to Nova Scotia seafood or to share with friends.
Riesling - This medium-sweet white wine exhibits intense pear and citrus fruit aromas such as bergamot, orange and lime.  Pair it with white fish, pork as well as cheese and spicy Asian dishes.
Marquette -  This wine is well structured with velvety tannins and rich flavours of cranberry, raspberry and cherry, followed by a lingering spice finish. Perfect for cheese boards, pasta, pizza, cured meats or an evening with friends. 
Castel - Rich, dense and deeply pigmented, this wine offers inviting herbaceous aromas of caraway and black pepper.  It pairs perfectly with grilled beef, game meats and roasted root vegetables.